Basing My Life On Scenes From Children's Books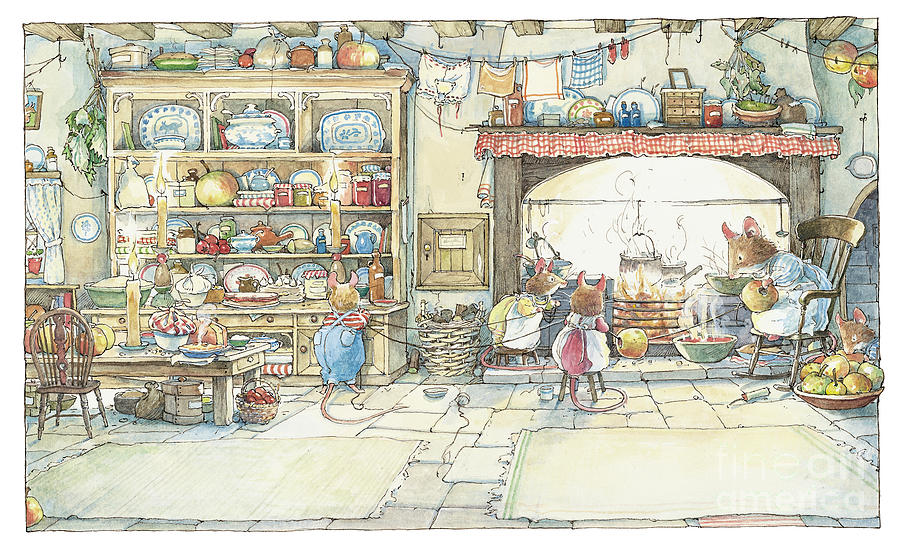 From the Brambly Hedge books by Jill Barklem
I have thought long and deep about my last post, and the wonderful, thought-provoking and honest comments that followed it. I love, love, love you community of readers who drop by here and read and add your wisdom and questions and reveal your vulnerabilities. I feel really very honoured to be a part of a conversation with many people who I feel are kindred spirits, quite apart from the generous and kind support I have unfailingly received here over the years.
I have realised that what I look for in the spaces around me is not neatness, but Art. I don't mind disorder, as long as it has artistic merit. When you told me about your hard-working kitchens in the comments of the last post, I could imagine the pleasure of being in each one amongst all the food and home-made bread and the preserves and piles of vegies from the garden, the seeds and the books. That is all good mess. The mess that drives me a bit insane is plastic bags and food wrappers and technology - I have changed internet providers and ditched my unused home phone this week so I had a whole collection of cords and phones and modems sitting in my dining room doing my head in. Now that they are gone and I am looking at bowls of walnuts instead I feel much calmer.
My solution, as per last week, is to get rid of all the things I find aesthetically unpleasing. Then all the messes will be ones that don't bother me. But it goes further. It is not just a sense of beauty I am looking for, but the kind of beauty. It is the beauty of things that are useful, but also make your heart sing. It is the beauty of tools that have been made with care and handled over and over again, the muddled glory of an artist's studio or a wood worker's shed or piles of garden pots or boxes of seeds. Cupboards full of sewing materials, fishing tackle or pots of jam. Who has read the Brambly Hedge children's books that are about mice living in the hedgerow? Their houses are full of Things and Mess but they are irresistible. They live in hard-working spaces filled with useful things that are beautiful because they are hand made.
From the Brambly Hedge books by Jill Barklem. Rose petal jam mess.
While it may seem a tiny bit insane to base how I want to live on scenes from children's books, I feel I could do much worse, and anyway, it doesn't hurt anyone, makes me happy, plus, it's good for the planet to live like the mice in Brambly Hedge. Everything they own you can buy from an op-shop, and they forage for all their food - very low food miles - and make everything themselves.
Jill Barklem's desk. The nicest kind of clutter.
Places that I am drawn to are studios, workshops and working kitchens - places where you can see that real things are being made. I do like space and light, but I have decided that minimalism is not for me. I will keep removing things from my spaces until what I have left is the functional and the beautiful and it is easy to find what I want without anything falling on my head. I think it would be ideal to know what I own and where everything is. It would be ideal not to buy anything without giving a great deal of thought to when and why and how I would use it, whether I can borrow it instead of owning it, and where it will live when it comes home with me.
We live in a world where the acquisition of things is disastrously easy, and naturally there has been a backlash against this physical clutter, by making Things the enemy, to be gotten rid of completely in order to be spiritually pure. But Things aren't the enemy. The means of production of Things is the enemy. We can have Things, and make them, and use tools to make them and create beauty all around us if we do it slowly, carefully, thoughtfully, and on a small scale. We can turn our houses back into hubs of creativity instead of being black holes of consumption.
I feel like I have strayed from the point here, which was housework. I think if I change the way I see the purpose of the house, then housework assumes a different level of importance. Yes, see how Zen this is, the middle path. Clutter and minimalism are two sides of one coin. Minimalism is a rejection of the crazy consumption of modern life, but it doesn't offer a new way of living, just less consumption. What I believe could be a more useful path is to change the way we use our houses - to create, to make, to work. If our houses are workshops instead of exhibition spaces, then housework becomes a different beast. It is more practical and utilitarian. Our houses then become all about what we produce rather than what they look like.
This is a rather convoluted post, but remember - I am an Ideas Person. I really can work much better if I have an Idea to work by. All my days recently have flown by in a bit of a fog as I work out my over-arching Philosophy of Life to live by. Expect a manifesto any day now. Meanwhile, today I dusted and swept and tidied with my hands while my brain busied itself working on the meaning of life. So, you know, progress...